buy a hat. support the arts!
With the encouragement of fellow artist Christine DeTroy, we're launching 'Hats for Sale' a collection and recognition of the many hats each and everyone of us wear in our daily lives. Artists from our local community have donated their talents to create hats uniquely for this event — all to raise $ for ArtVan! Community, collaboration, and creativity at work here. Whoa, how lucky are we?! All Artists are donating 50%-100% of the proceeds towards ArtVan. Do you see a hat you'd like to purchase? Contact the Artist directly to purchase — starting Saturday, April 17th. Hats go to the FIRST person to contact the Artist.
Scroll along to explore each hat and its maker – as if you were at a gallery or your very own hat shop. You may also choose to click on each artist separately. If so, you'll hop down to their part of the shop. Use the arrow at the bottom right of the page to come back to the top!  At the end of the month, some hats will be displayed in the windows of Riley's Insurance in downtown Brunswick. Stay tuned!
Emerald Dream
by Christine DeTroy Jr.
"Emerald Dream" came from a dream I had recently of a Vintage hat of vivid layered greens. For this piece I used a vintage hat and added bits and pieces of color sourced from a variety of materials and textures. A strong interest and a Love of Historical dress along with recycled whimsy were my motivators. Can be worn up higher on the head, tilted or pulled down. As with most hats, it adapts to the person who wears it.
Size – Small/Medium – 22″
Price is $125 + shipping *local delivery up to 50 miles available
'le cafe chapeau'
by Christine DeTroy Jr.
Inspired by the recycling of Coffee Burlap sacks and a Love of coffee. Trimmed with sage green burlap ribbon and applied coffee beans. The underside lining is from a camo netting from a Maine State Music Theatre fabric give away over a decade ago. Again, A strong interest and a Love of Historical dress along with recycled whimsy were my motivators.
Christine is a Designer and Producer of "Mid-coast Altered Couture Contest" a yearly Community romp that celebrates local talent and raises funding and awareness of local youth art programs.
Felted Spring Bonnet Extravaganza
by Leslie Beattie
Up-cycled wool sweaters (body and some flower parts made of cashmere!), fabric covered wire, decorative ribbon, hand-dyed silk thread, a drop of hot glue and a snitch of elastic
 Hat Sizing: Size 7 built to fit 22" circumference with some elastic stretch
Price & Shipping: $120 + $15 shipping
*local pick-up available at The Mix!
Felted Wool & Silk Hat
by Marina Rheault Post
Marina Rheault Post is a self-taught interdisciplinary fiber artist in Chicago who has used varied media to create tactile objects of hope and beauty. She currently explores the alchemy and synergy of natural fibers both protein and cellulose. With an inherent love of vessels, hats have been integral to her practice as a hat is a vessel upturned on the head! She also loves teaching any who want to learn.
Sizing: Small to Medium
$350 inclu. shipping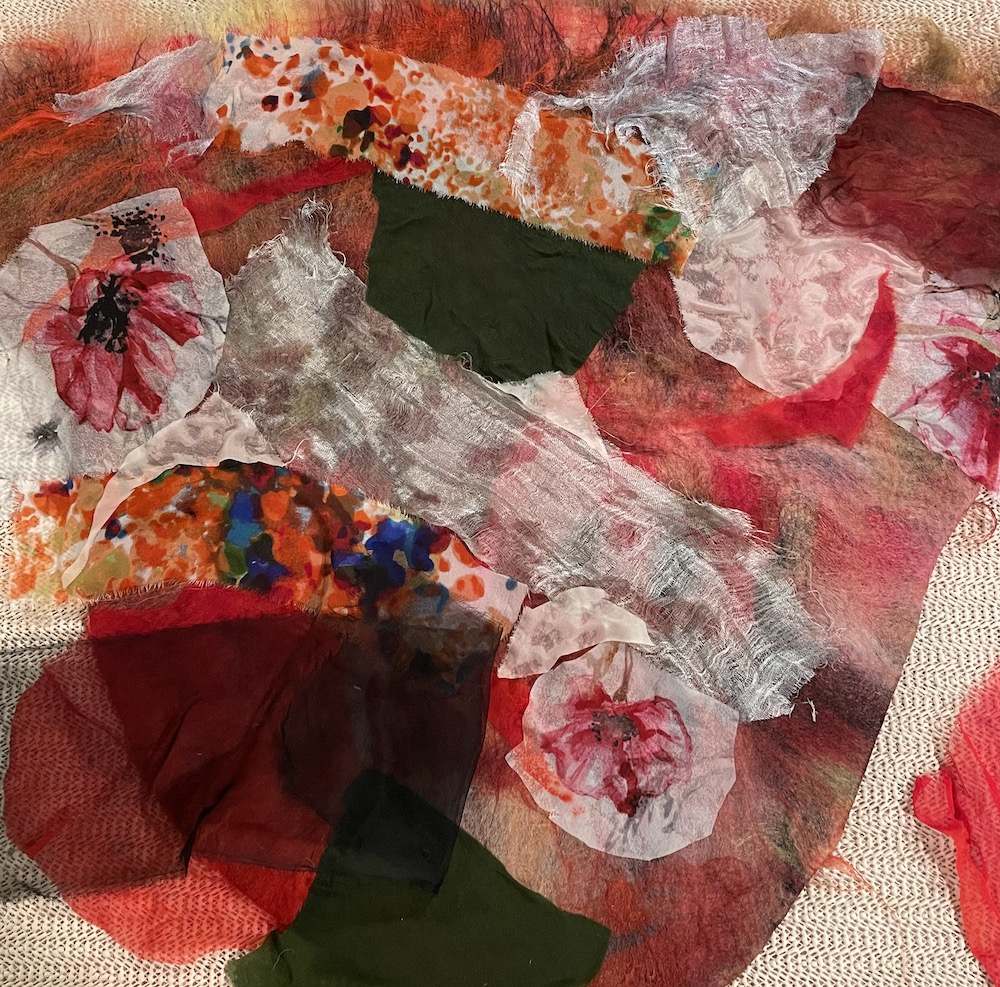 a howdy pilgrim hat
by Nancy Curtis-Strange
What may have been worn by the locals, whilst welcoming the first North American immigrants. The hat is made of recycled resin hat form, tail and wing wild turkey feathers.
giant octopus that swims on plastic water by Bridget Mcalonan
I love using art to tell stories–stories about dreams I've had, things I've experienced or often as the springboard to tell bad jokes. Using mixed media – drawing, painting, and puppetry – is my favorite way of working. This hat is a giant octopus that swims on plastic water and is made of mostly recycled materials (trash).
This octopus hat is totally impractical. It is made from paper mache, paint and plastic bags. It will not fit through the average door while you wear it. It will keep the rain off but only until the rain dissolves it. It requires that you walk with impeccable posture while wearing it. It fits a small head (however not a small mind…) Shipping will be interesting.
Price: $125

the mermaid hat
by Pat Cannon
Inspired by a walk in the beach.  It is crocheted using colors, textures, wavy lines and even "found objects" on the beach! Made of acrylic, wool, cotton and metallic yarns.
Mermaid Hat (top): $45

Dark Blue with Teal Stripe: SOLD

Teal with White Strip: SOLD
Made of miscellaneous recycled stuff around the house! "I love how I can look at it and see where each item is from, for instance, the green flowers were from my wedding, the feather pin from my aunt, the faux leather from my David Bowie costume, the tropical print fabric from a dress I've been meaning to make for at least 6 years!  I used an old straw visor I had (which holds its own memories), cut it up and sewed it to a headband."
Two hand-sewn hats using McCall's pattern M7766 and fabric from non other than Topsham's wonderful Joanne Fabrics. Flowers are crocheted by daughter, Adele Wise.
Size: Medium
Brown Cap – SOLD

Yellow Sun Hat – $45

haus hut
by Matthew detroy
The House that Matt built, "Haus Hut", sets atop a Vintage Straw Hat. Made from foam core board and a bit of March Madness this one-of-a-kind hat would fit a Small to Med head. It comes also with a Bolo tie to hold comfortably in place.
Handwoven cotton and wool
Size: Medium
Price: $50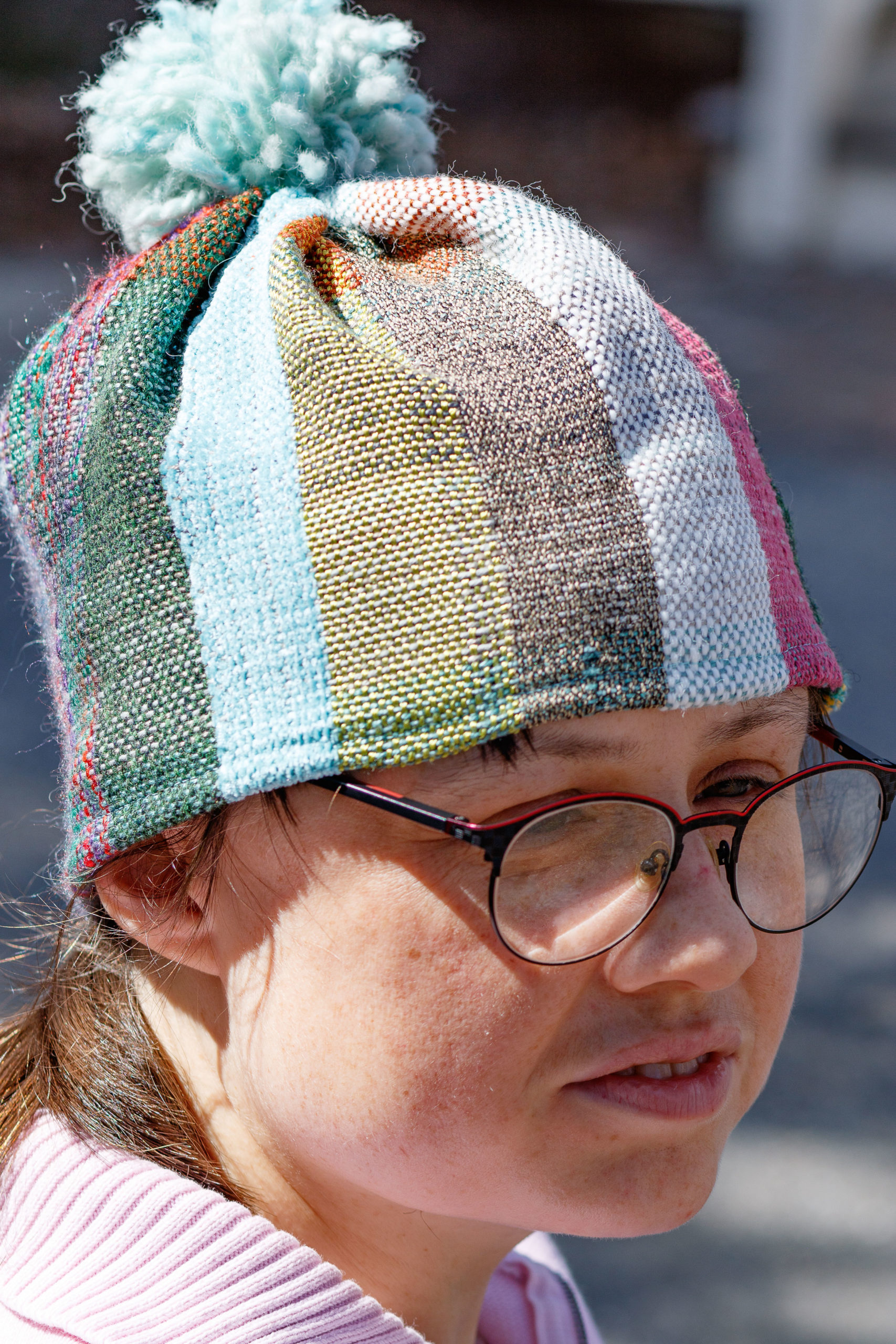 A large hat made from an old cast aside paper window lantern, papier-mâché, odds n ends. Outfitted with interior tap lights. Made mostly of paper, don't wear in the rain!
Size: 21.75 inches, give or take half an inch
Price: $175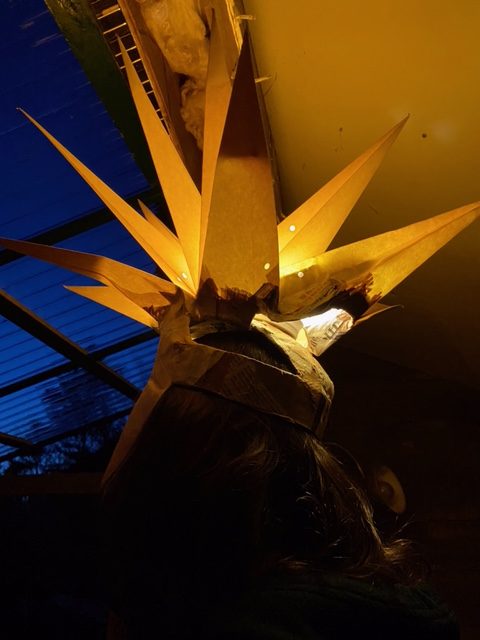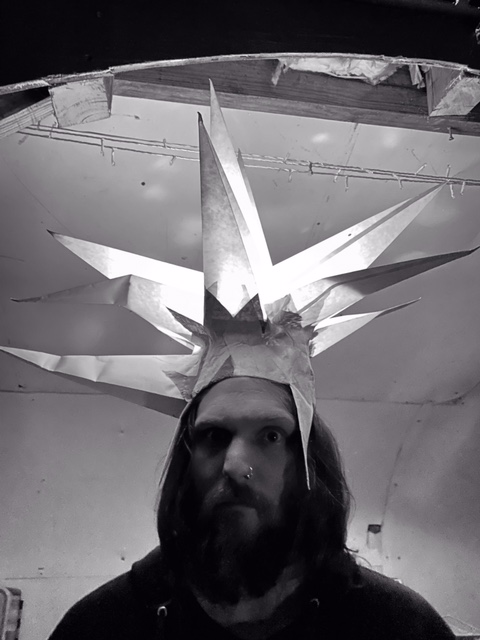 fun & flirty spring hat
by sienna dode
Off white, pink, peach, orange. Striped coral/off white straw "upcycled" with coordinating swirl print orange/pink/white cotton fabric with ribbon/floral/berry embellishment.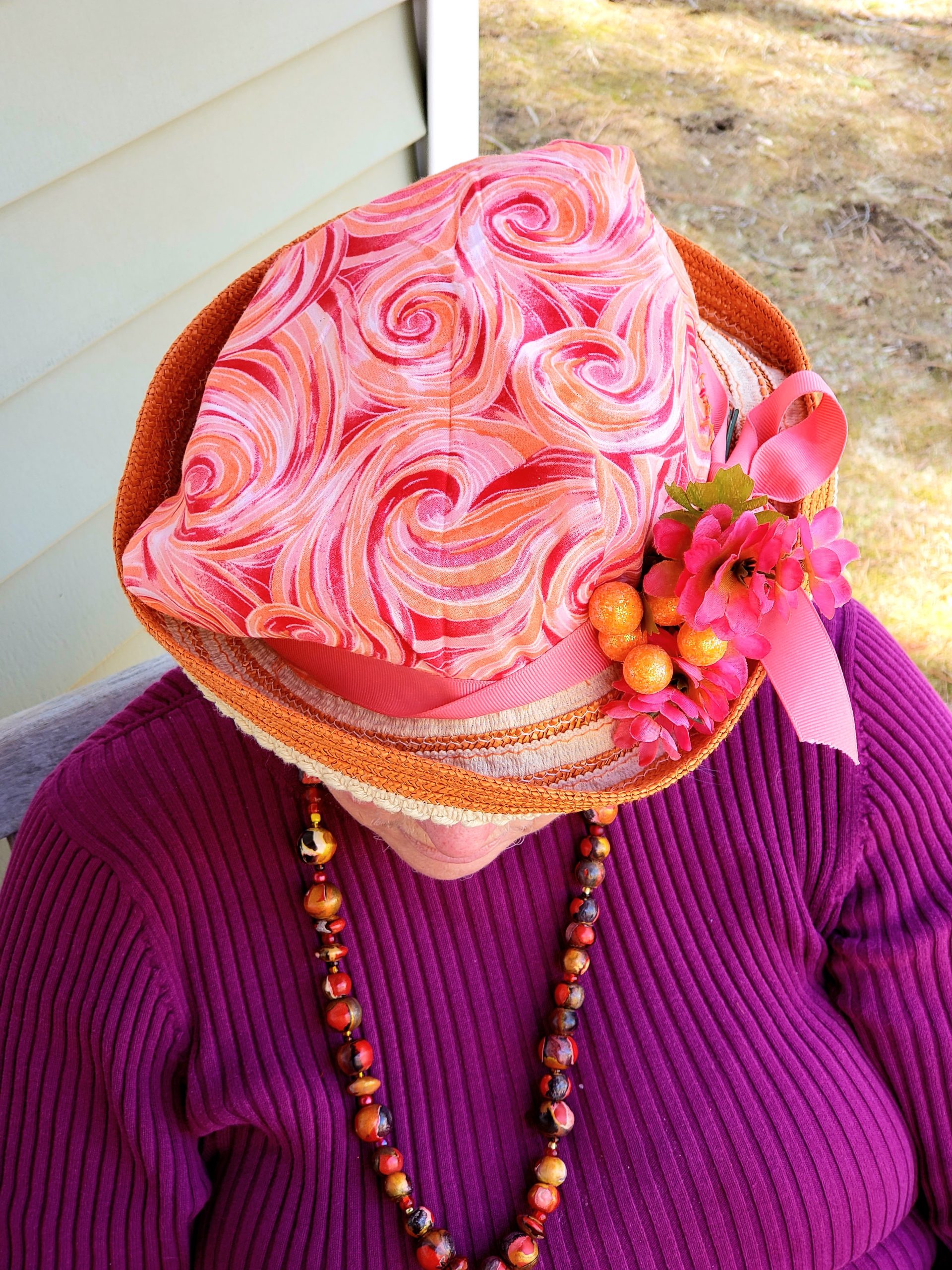 Felt, sinuway, feathers, rhinestone jewelry, silk ribbon, paint , beads, silk and felt flowers
Black Felt Hat: $125
Green Sinuway Hat: $125
Blue Sinuway Hat: $125
Feather Fascinator: $55 SOLD
Pink Rhinestone Fascinator: $55
Blue Rhinestone Fascinator: $55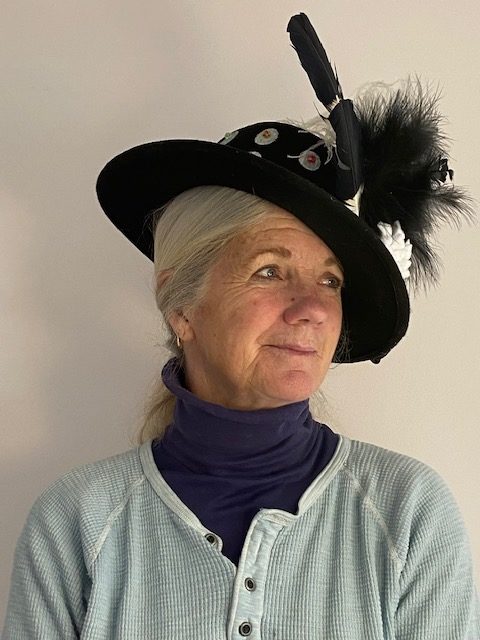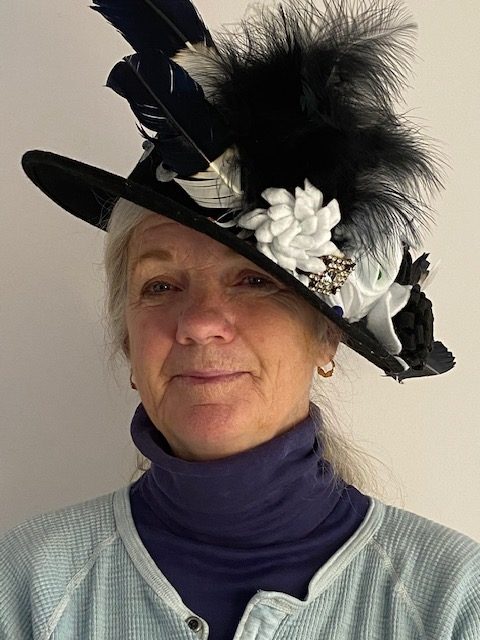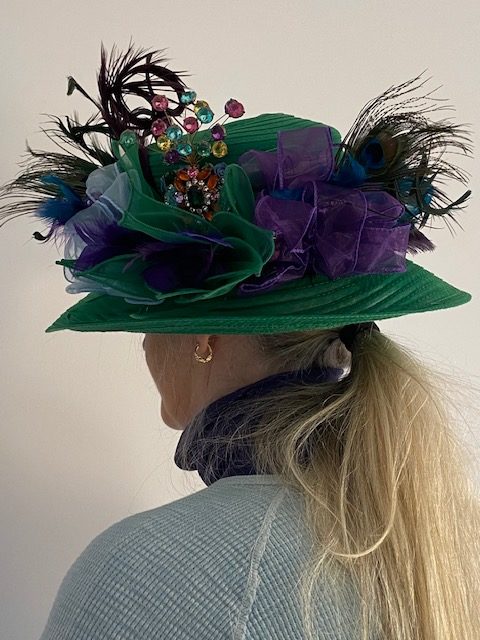 Embroidery embellishment on straw base. 
Size: Medium
Price: $50
tie dyed cotton fedora
by karen mcgann
Size: Women's medium
Price: $40
viking x peruvian wool hat by mandy russell
Made from a super soft 100% Highland Peruvian wool called Woolstök. A Bluesky company. Absolutely hand wash only. However, the wool isn't scratchy at all – not one bit. Fits any large teen to adult head.
Price: $125
The Painted Dog Studio – a darling little art studio specializing in the tinkering of crafty shenanigans in Brunswick, ME.
a whimsical garden party
by Emily DeTroy
The base of the hat is straw/paper, using acrylic paint to create a black canvas and selectively applied googly-eyes to mimic a lace fringe. This hat is to be worn exclusively on a dry temperate day to a whimsical garden party.

Size: Small
Price: $30
Crocheted with SEACOLORS Yarn donated by Nanne Kennedy at getwool.com
100% Polwarth 'No Itch' wool
22.5"circumference
Price: $75